Copper-Nickel Round Bars & Copper-Nickel Wires
Copper Nickel 70/30 Round Bars, Cu-Ni 90/10 Rods, Copper Nickel Wires Manufacturer, Exporter & Suppliers in India.
ASTM B111 UNS C71500 70/30 Round Bars, Cu-Ni UNS C70600 90/10 Rods, Cu-Ni Wire, Wire Mesh Suppliers.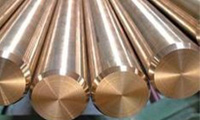 We are among the Manufacturers, Exporters and Supplier of Cu-Ni Bars, Rods & Wires that are using high quality raw materials in mumbai, India. We also manufactured these products as per national & international quality standards. These Cu-Ni Bars, Rods & Wire are available in Hard, Half-Hard as well as in Soft conditions and are perfect for use in electrical applications. These Copper Nickel Sheets & Plates in available different grades, specification & thickness as per the   clients requirements. These are widely used in various application industry such     as Cement industry, Power Industry, Sugar Mills, Chemical Plants,        Pharmaceuticals etc.
Specification :
| | | |
| --- | --- | --- |
| Range | : | 5 mm To 500 mm thick in 100 mm TO 6000 mm |
| Wier Range | : | 50 Swg. to 4 Swg. |
| Standards | : | ASTM B 111 |
| Length | : | 100 mm to 3660 mm Long |
| Finish | : | Bright, Polish & Black |
| Form | : | Round, Square, Hex (A/F), Bush, Rectangle , Flat, Wire Mesh |
| Grades | : | Copper Nickel 90/10 Bar – Cu Ni 90/10 Bar 70600(90:10), C71500 (70:30), C71640 |
Types Of Cu-Ni Bars, Rods & Wires :
• Cu-Ni UNS C71500 70/30 Bars
• Cu-Ni UNS C70600 90/10 Rods
• Cu-Ni Forged Round Bars
• Cu-Ni Square Bars
• Cu-Ni Hollow Bar
• Cu-Ni Black Bars
• Cu-Ni Threaded Bars
• Cu-Ni Hexagon Bars
• Copper Nickel 70/30 Cold Drawn Bars
• Copper Nickel 90/10 Bright Bars
• Cu-Ni Spring Steel Bars
• Cu-Ni Hex Bars
• Cu-Ni 70/30 Wire
• Cu-Ni 90/10 Wire Bobbin
• Cu-Ni Wire Coil
• Cu-Ni 70/30 Filler Wire

Chemical Composition of Copper-Nickel 90/10 Round Bars & 70/30 Wires
| | | | | | | |
| --- | --- | --- | --- | --- | --- | --- |
| Grade | Cu | Mn | Pb | Ni+Co | Fe | Zn |
| Copper Nickel 90/10 | REM | 1.00 max | 0.05 max | 9 – 11 | 1.0 – 1.8 | 1 max |
| Copper Nickel 70/30 | REM | 1 max | 0.05 max | 29-33 | 0.4-1.0 | 1 max |

Mechanical Properties of Copper-Nickel 90/10 Round Bars & Wires &
70/30 Fasteners
Round Bars & Wires
| | | | | |
| --- | --- | --- | --- | --- |
| Density | Melting Point | Tensile Strength | Yield Strength (0.2%Offset) | Elongation |
| 0.323 lb/in3 at 68 F | 0.323 lb/in3 at 68 F | 260 mpa | 105 mpa | 3 |
| 0.323 lb/in3 at 68 F | 0.323 lb/in3 at 68 F | 360 mpa | 125 mpa | 30 % |