Aluminum Buttweld Fittings
Aluminum Elbow, Aluminum Tee, Equal & Unequal Cross Manufacturer, Exporter & Suppliers in India.
Aluminum ASTM B361 WP6061, WP5083, WP5086 Seamless Butt weld Pipe Fittings, Welded Buttweld Fittings Suppliers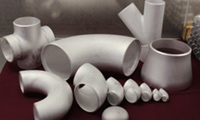 We are leading Manufacturers, Exporters and Supplier of wide range Aluminum Butt weld Pipe Fittings that are using high quality raw materials in mumbai, India. We are manufactured these products as per the national & international quality standards. We also offer Aluminum seamless elbows, tee's, reducers, end caps, bends, nipples etc. These are available in different specification and dimensions as per the clients requirements. These are widely used in various application              industry like oil & gas, cement industry, chemical industry etc.
Specification :
| | | |
| --- | --- | --- |
| Size | : | 1/8″NB TO 48″NB |
| Standard | : | ASTM B361: WP6061, WP5083, WP5086 |
| Wall thickness | : | sch. 5s to sch.xxs |
| Grade | : | 6063, 6061T6/T651, 6082 T6/T651, 5052, 5083, 5086, 7075, 1100, 2014, 2024 |
| Type | : | Seamless & welded |
Types Of Aluminum Butt weld Pipe Fittings:
• 90 & 45 Deg Elbows
• Long & Short Radius Elbows
• Equal & Unequal Tees
• Concentric & Eccentric Reducer
• Equal & Unequal Cross
• Bends
• Short & Long Stub Ends
• Pipe End Caps
• Piggable Bends
• Seamless Buttweld Pipe Fittings
• Welded Buttweld Pipe Fittings
• Split Tees
Chemical Composition Aluminium Buttweld Fittings
| | |
| --- | --- |
| Element | % Present |
| Si | 0.50 – 0.90 |
| Fe | 0.0 – 0.50 |
| Cu | 3.90 – 5.00 |
| Zn | 0.0 – 0.25 |
| Mn | 0.40 – 1.20 |
| Mg | 0.20 – 0.80 |
| Ti | 0.0 – 0.15 |
| Cr | 0.0 – 0.10 |
| Ni | 0.0 – 0.10 |
| Ti+Zr | 0.0 – 0.20 |
| Al | Balance |
| Others (Total) | 0.0 – 0.15 |
| Other (Each) | 0.0 – 0.05 |
Aluminum Buttweld Fittings Mechanical Properties
| | |
| --- | --- |
| Element | Aluminium 2014 T6 |
| Tensile Yield Strength | 60000 psi |
| Ultimate Tensile Strength | 70000 psi |
| Modulus of Elasticity | 10500 ksi |
| Elongation % | 13 % |
| Hardness | 155 |
Types Of Aluminium Buttweld Fittings
| | | |
| --- | --- | --- |
| Aluminium 6063 Blind Flanges | Aluminium Alloy 6082 T6 Plate Flanges | Aluminium 6061 T6 ASME Flanges |
| Aluminium Reducing Flanges | Aluminium Weld Neck Flanges | Aluminium 6063 Industrial Flanges |
| Aluminium 6063 Threaded Flanges | Aluminium 6082 T6 Lap Joint Flanges | Aluminium Long weld Neck Flanges |
| Aluminium 6061 T6 Slip-On Flanges | Aluminium Socket Weld Flanges | 6061 Orifice Flanges |
| Aluminium Alloy 6063 Flat Flanges | Aluminium DIN Flanges | Aluminium 6082 ANSI Flanges |
| Aluminium BLRF Flanges | ANSI b16.5 Aluminium Flanges | Aluminium Forged Flanges |
| Aluminium Flanges | Aluminium ANSI B16.5 Flanges | Aluminium ANSI B16.47 Flanges |
| Aluminium 6082 T6 SWRF Flanges | Aluminium WNRF Flanges | Aluminium Alloy 6061 T6 SORF Flanges |