ASTM B463 Alloy 28 Flanges
Alloy 28 Flanges Manufacturer, Exporter & Suppliers in India
UNS N08028 Alloy 28 Flanges Pipe Fittings, Flanges Pipe Fittings Suppliers in India.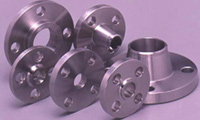 We can offer a comprehensive range of Alloy 28 Blind Flanges(ASTM A388) that is using high quality raw materials . We are leading manufacturer & Suppliers of high quality of Alloy 28 Flanges. Alloy 28 Flanges(ASTM A388) offered by us for its strength at high temperatures and its ability to Chemical Analysis,Corrosion Test,Tensile, Hardness, Flattening, Flare, Flange and Reverse-bend tests,Eddy Current Testing,Hydrostatic Testing,Air under Press Test,IGC Test (Intergranular Corrosion Test),Microstructure Analysis,Radiography Test,Ultrasonic Test,Liquid Penetrant Test. All products are industry-standard conforming to or exceeding API, ASTM, ASME, ANSI and other national and international standards. These Flanges are available in different size, specification, grades & thickness as per the clients requirements. These Flanges are widely used in different various application such as Sanitary ,valve production,Gas technology,Heating technology,Welding / cutting technology,Construction industry,Soldering technology,Connecting technologyMeasurement technology,Pump production,Regulating / controlling technology,Air-conditioning technology,Automotive electrics,Musical instruments,Fire safetyDrive systems and so on etc.
Specification

Standard
:
UNS N08028
Size
:
1/2" – 96", DN15-DN2000
Type
:
Flate Face (FF), Raised Face (RF), Ring Type Joint (RTJ)
Schedule
:
Sch5~Sch160XXS
Form
:
Round, Square, Rectangular, Hydraulic Etc.
Chemical Requirements :
| | |
| --- | --- |
| Compositions | Data |
| Carbon(max.) | ≤0.020 |
| Manganese | ≤2.0 |
| Phosphorus(max.) | ≤0.025 |
| Sulfur(max.) | ≤0.010 |
| Silicon | ≤0.6 |
| Nickel | 31 |
| Chromium | 27 |
| Copper | 1.0 |
Mechanical Properties :
| | |
| --- | --- |
| Properties | Data |
| Yield strength(min) | 250Mpa |
| Tensile strength(min) | 650Mpa |
| Elongation(%) | 40 |
Types Of Alloy 28 Flanges :
•   UNS NO8028 flanges
•    UNS N08028 Blind Flanges
•   UNS N08028 Welding Neck Flanges
•   UNS N08028 Slip On Flanges
•   UNS N08028 Socket Welding Flanges
•   UNS N08028 Lap joint Flanges
•   UNS N08028 Ring joint Flanges
•   UNS N08028 Slip-on flanges
•   UNS N08028 Weld Neck Flanges
•   UNS N08028 WN flanges
•   UNS N08028 LWN flanges
•   UNS N08028 Spectacle blind Flanges